AquaFirst™ Turbo Remote Controlled Robotic Pool Cleaner
AquaFirst™ Turbo Remote
AquaFirst

ULTRA-FAST ROBOTIC Cleaner. A

quaFirst

Ultra-Fast Robotic Cleaner With Remote Control For Spot Cleaning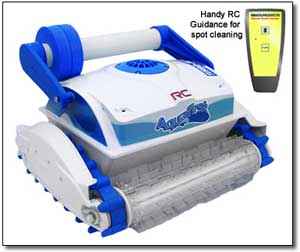 A & B
COMPARES TO AQUABOT TURBO T-RC®
ULTRA-FAST ROBOTIC CLEANER WITH REMOTE CONTROL FOR SPOT CLEANING!
AquaFirst™ Turbo RC is the fastest cleaning, most technologically advanced pool cleaner in its class. Just press the button and the dirt-eating dynamo provides triple function cleaning to scrub, vacuum & filter your pool. The unit will clean any pool up to 50 feet in length in 3 hours or less. When its work is done, AquaFirst™ Turbo RC automatically shuts itself off.

The unit's powerful suction motor sucks up all debris, leaves & twigs and and deposits them in its own filtration bag. AquaFirst™ Turbo RC filters 5,000 gallons of pool water per hour and removes dirt, debris and even algae. Almost nothing is small enough to evade its filtration bag. Powerful brushes on the front and back of the unit scrub away stubborn dirt and algae from your pool's surfaces. Since AquaFirst™ Turbo RC has its own filtration system it reduces the load on your existing pump and filter system while it distributes heat and chemicals as it cleans.
ECONOMICAL, SUPER SAFE LOW VOLTAGE
AquaFirst™ Turbo RC runs on a safe, ultra-efficient 24 volts. The pre-programmed unit cleans your pool's floors, steps and walls up to the water line in 3 hours or less & automatically shuts itself off when its work is done. Patented Never Stuck™ rollers keep AquaFirst™ Turbo RC from getting stuck on main drains and other in-floor obstructions.
REMOTE CONTROL CLEANING
The unit comes with its own remote control handset that allows you to direct the cleaner anywhere that needs additional cleaning. RC provides for radius turning and precise forward & reverse movements that allow for easy direction anywhere in your pool.
Designed for residential pools up to 50' in length, the unit comes complete with cleaner, 60 feet of floating cord and low voltage transformer. AquaFirst™ Turbo RC is lightweight – 17 pounds – so it is easy to lift out of the water. UL & ETL listed. 1-Year Warranty
Part Numbers and Purchasing
AquaFirst Turbo Remote
Part
Number

Description

SKU

Purchase

AquaFirst Turbo Robotic Cleaner
Legend
Terms:
NLA = No Longer Available.
DS = Drop Shipped, Cannot be combined with any other Items.
OS=Cannot Ship UPS & Cannot be combined with other items