Arneson, Hayward Pool Sweep I Head Diagram
Hayward Pool Sweep I Parts Diagram
Pool Sweep I
Arneson Pool Sweep was purchased by Hayward. As of about 1999 Hayward stop producing the Pool Sweep, original Parts are becoming very scarce. Letro Manufacturing has begun producing replacement parts for the Arneson / Hayward Pool Cleaner. We will continue to supply original parts as long as they are Available For convenience the replacement head (G79)is a convenient way of keeping you cleaner investment current.
Some Original parts are still Available We will will designate made by Letro when they are not. All original external parts are compatible with the head made by Letro. Internal gears made by Letro may not be compatible with the Original cleaner. If Internal Parts are needed for the Letro replacement Be sure to indicate you need LETRO parts.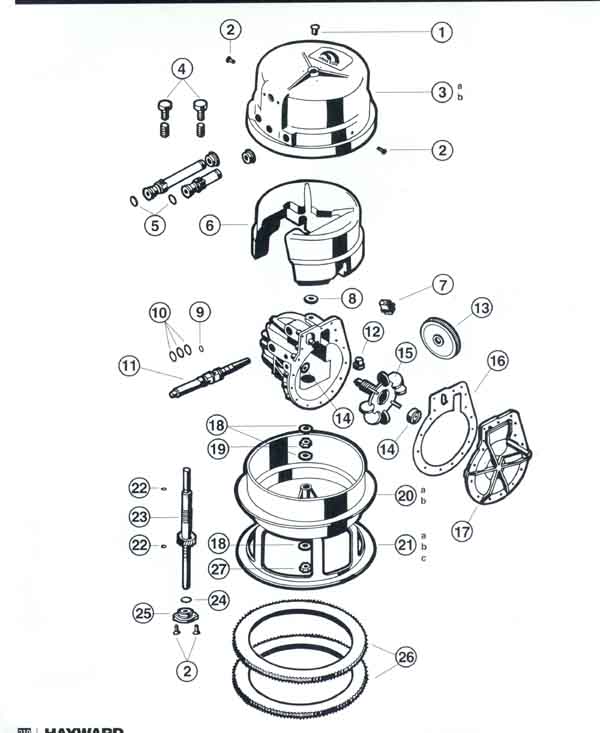 Hayward Pool Sweep I Parts List
Pool Sweep I
Key
Model
Description
Product ID
Buy Me
1
AXG39P
Tile Rinser
AC-01172
2
AXG10P
Gear Housing Screw
AC-01151
3a
AXG01C
Pool Sweep I, Top Shell Blue
AC-01146
3b
AXG01CLG
Pool Sweep I, Top Shell Light Gray
--
NLA
4
AXG15AP
Thumb Screw (1-G15a & 1-G16A)
AC-01157
5
AXF07P
O-ring for Sweep Hose
OR-0130
6
AXG55
Head Float
--
7
AXG11
Turbine Nozzle
NLA
8
AXG47
Spinner Washer
AC-01171
9
AXF24
O-ring for backup extension of G21C
AC-01143
10
AXJ04
O-ringfor valve body
AC-01191
11
G21C
Drive Valve - Made by Letro - Not Compatible with Original Cleaner
AC-01160
12
AXG31P
Upper Bearing
AC-01166
13
AXG36B
Valve Gear
AC-01169
14
AXE036
Turbine Bearing
AC-01136
15
AXG33B
Turbine
AC-01168
16
AXG29B
Gasket for Gear Housing
AC-01164
17
AXG28B
Gear Housing Cover
AC-01163
18
AXG08P
Housing Washer
--
NLA
19
AXA12P
Volute Nut
AC-01113C
20a
AXG02A
Bottom Shell Blue, Letro LG02
AC-00911
20b
AXG02ALG
Bottom Shell, Light Gray
NLA
21a
AXG63
Bottom Extension Made by Letro LG63A
AC-01173
21b
>
AXG63BLG
Bottom Extension, New Style, Light Gray
NLA
21c
AXG63BW
Bottom Extension, New Style, White
--
NLA
22
AXG12P
O-ring for Gear Axle
AC-01153
23
AXG26B
Gear Axle for tile rinser, Red
AC-01162
24
AXG32
O-ring for lower bearing
OR-0189
25
AXG30B
Lower Bearing
AC-01165
26
AXG09AWHP
Housing Tire Made by Letro, Each
AC-00923
27
AXA12B
Nylon Insert Locknut
--
G79
Replacement Head Made by Letro: Not Included 18-21,26. All Original External Parts are compatible with this head.
AC-01106
Terms:
NLA = No Longer Available.
DS = Drop Shipped, Cannot be combined with any other Items.
OS=Cannot Ship UPS & Cannot be combined with other items
Notice / Important: When adding items to the shopping cart from this page, please make sure that the item added is the same as listed on this page. Occasionally part numbers will change and will not be reflected on this page.
Arneson, Hayward Parts Diagram Links