Hayward Super Pump II Swimming Pool Pump
Hayward Super Pump II Pool Pump
High Performance Pump Series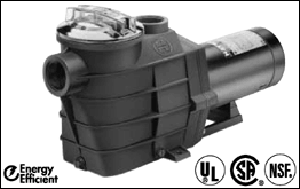 Typical Uses:
In-ground pools of all types and sizes (including in-floor cleaning systems, solar heating systems, water features).
In-ground spas or in-ground pool/spa combinations.
Fountains

Features:
Self-priming (suction lift up to 8' above water level)
Easy thread design makes strainer cover removal easy
See-Through strainer cover lets you see when basket needs cleaning
180 cubic inch basket has extra leaf-holding capacity. Load-extender ribbing ensures free flowing operation
All components molded of corrosion-proof reinforced thermoplastic for extra durability and long life
Heavy-duty, high performance motor for quieter, cooler operation
Service-ease design gives simple access to all internal parts
Includes Pump Lid removal tool
.
Performance Data
Pump Output (GPM) vs. Total Resistance To Flow (Feet of Head)

Model No. Max Rated

Model No. Full Rated

40 ft

50 ft

60 ft

70 ft

80 ft

90 ft

SP3005X7AZ

----

46

39

27

9

---

---

SP3007X10AZ

SP3007EEAZ

70

60

47

30

---

---

SP3010X15AZ

SP3010EEAZ

88

80

65

50

30

---

SP3015X20AZ

SP3015EEAZ

114

104

89

76

53

---

SP3020X25AZ

SP3020EEAZ

131

121

105

84

58

4

SP3025X30AZ

SP3025EEAZ

157

148

134

119

105

80

----

SP303063AZ

157

148

134

119

105

80
Part Numbers and Purchasing
Paragraph Heading (h4)
SKU
Number

Description

Part
Number

Buy Me

PU-00511

Hayward Super Pump II Model SP3007X10, 1 HP, 60Hz

SP3007X10

PU-00512

Hayward Super Pump II Model SP3010X15AZ, 1.5 HP, 60Hz

SP3010X15AZ

PU-00513

Hayward Super Pump II Model SP3015X20, 2 HP, 60Hz, 2 Inch Fittings

SP3015X20AZ

PU-00515

Hayward Super Pump II Model SP3025X30AZ, 3 HP, 60Hz, 2 Inch Fittings

SP3025X30AZ
Links
Legend
Terms:
NLA = No Longer Availble.
DS = Drop Shipped, Cannot be combined with any other Items.
OS=Cannot Ship UPS & Cannot be combined with other items