Swimming Pool Covers, Leaf Nets
Swimming Pool Leaf Nets
Pool Leaf Covers. We offer a complete line of Leaf Nets, pool cleaners and parts. Leaf covers make the fall cleaup much easier by not allowing leaves to enter the pool.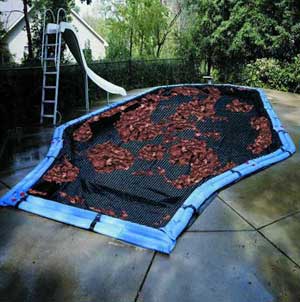 LEAF NETS MAKE SPRING CLEAN-UP A SNAP!
Tired of removing those heavy, smelly, decaying leaves from your pool cover each spring? A leaf net is the answer! Simply lay the Leaf Net on top of your winter cover before the leaves fall, and remove it in November before the hard freeze. The Leaf Net's fine mesh traps the leaves and removes them from your pool so spring clean-up is a snap. Our cover is made from durable polyethylene and carries a 4-Year Warranty. If you live in an area with a lot of leaves, try the Leaf Net!
IN-GROUND LEAF NETS
In-ground leaf nets have an extra 4-foot overlap and water tube loops for a secure fit over your in-ground winter cover. Black mesh fabric.
Part Numbers and Purchasing
In-Groound Leaf Nets
| Order No. | Pool Size | Cover Size Cover Size | SKU # | Quantity |
| --- | --- | --- | --- | --- |
| W254 | 12' X 20' | 16' X 24' | CA-02000 | |
| W256 | 12' X 24' | 16' X 28' | CA-02001 | |
| W258 | 14' X 28' | 18' X 32' | CA-02002 | |
| W260 | 16' X 24' | 20' X 28' | CA-02004 | |
| W262 | 16' X 32' | 20' X 36' | CA-02005 | |
| W264 | 16' X 36' | 20' X 40' | CA-02006 | |
| W266 | 18' X 36' | 22' X 40' | CA-02007 | |
| W270 | 18'/20' X 40' | 24' X 44' | CA-02008 | |
| W272 | 20' X 44' | 24' X 48' | CA-02009 | |
| W274 | 24' X 40 | 28' X 44' | CA-02010 | |
| W276 | 24' X 44' | 28' X 48' | CA-02011 | |
| W278 | 25' X 45' | 29' X 49' | CA-02012 | |
| W280 | 25' X 50' | 29' X 54' | CA-02013 | |
| W281 | 30' X 50' | 34' X 54' | CA-02014 | |
| W282 | 30' X 60' | 34' X 64' | CA-02015 | |
Above Ground Leaf Nets
| Order No. | Pool Size | Cover Size | SKU # | Quantity |
| --- | --- | --- | --- | --- |
| W200 | 12' Round | 15' | CA-02050 | |
| W204 | 15' Round | 18' | CA-02051 | |
| W208 | 16' Round | 19' | CA-02052 | |
| W212 | 18' Round | 21' | CA-02053 | |
| W216 | 21' Round | 24' | CA-02054 | |
| W220 | 24' Round | 27' | CA-02055 | |
| W224 | 28' Round | 31' | CA-02056 | |
| W225 | 30' Round | 33' | CA-02057 | |
| W227 | 33' Round | 36' | CA-02056 | |
| W230 | 12' x 24' Oval | 15' x 27' | CA-02075 | |
| W232 | 15' x 30' Oval | 18' x 33' | CA-02076 | |
| W234 | 16' x 25' Oval | 19' x 28' | CA-02077 | |
| W236 | 16' x 28' Oval | 19' x 31' | CA-02078 | |
| W238 | 16' x 32' Oval | 19' x 35' | CA-02079 | |
| W240 | 16' x 40' Oval | 19' x 43' | CA-02080 | |
| W242 | 18' x 30' Oval | 21' x 33' | CA-02081 | |
| W246 | | 21' x 37' | CA-02082 | |
| W248 | 18' x 33'/34' Oval | 21' x 37' | CA-02083 | |
| W250 | 18' x 38' Oval | 21' x 41' | CA-02084 | |
| W252 | 21' x 41' Oval | 24'x 44' | CA-02085 | |
Links
Legend
Terms:
NLA = No Longer Availble.
DS = Drop Shipped, Cannot be combined with any other Items.
OS=Cannot Ship UPS & Cannot be combined with other items