Swimming Pool Deck Coatings, Patio Tones
Olympic Patio Tones Deck Coatings
Pool Deck Coatings. PATIO TONES will greatly enhance the beauty of any concrete patio or pool deck. Plain or worn concrete gives a dull and uninteresting appearance, detracting from the ambiance of the area. PATIO TONES adds life as well as protection.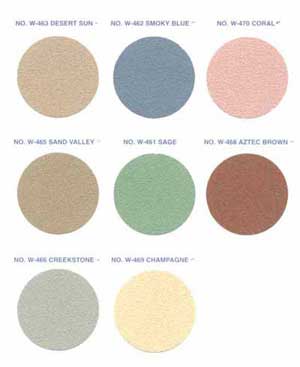 Patio Tones Will convert worn shappy and colorless pool decks into beautiful recreational area. Both new and Old decks will be more attractive and safe with this easy to use, slip resistant coating.
Cracks, pits or breaks in the concrete can be patched and then painted with Patio Tones to restore the original beauty of your pool deck or patio.
Patio Tones can be rolled on wet surfaces and cleans with water.
All concrete surfaces must be properly cleaned prior to the application of Patio tones. After sweeping away loose debris, use a stiff bristle patio broom to scrub the surface with a solution of Tri-Sodium Phosphate and water. This will remove sun tan lotion and oils which inhibit the penetration of Patio tones. The surface should be thoroughly rinsed with water. Using a 10% solution of Muriatic acid, scrub the deck again, this will remove mineral deposits and creates pores for be adhesion of the Patio Tones paint. Finally use Tri-sodium Phosphate solution to neutralize any traces of acid, rinse and allow standing water to dissipate
Patio Tones may be rolled on wet concrete, but not through standing water or puddles. Two coats are required on bare concrete. The first coat should be thinned with 10-20% water.(if concrete is wet omit thinning). Allow the first coat to dry a minimum of one hour depending on the temperature. Apply the second coat full strength. ALLOW 24 hours to dry before allowing traffic to walk on the coating.
Coverage: 80-120 square feet per gallon depending on the surface porosity. Two coats are require on bare concrete.
Part Numbers and Purchasing
Patio Tones - Deck Coatings
SKU
Number

Part Number
Description

Buy Me

MA-01014

W-463
Desert Sun

MA-01012-4

W-462
Smoky Blue , 4 x 1 Gallons, Special Order

MA-01024

W-470
Coral

MA-01016

W-465
Sand Valley

MA-01026

W-461
Sage

MA-01010

W-468
Aztec Brown

MA-01020

W-466
Creekstone

MA-01022

W-469
Champagne
Links
Legend
Terms:
NLA = No Longer Available.
DS = Drop Shipped, Cannot be combined with any other Items.
OS=Cannot Ship UPS & Cannot be combined with other items
]