Swimming Pool Replacement Bulbs for Swimming Pool Lighting
Swimming Pool Bulbs, A Guide
Pool Lamp Replacement Bulbs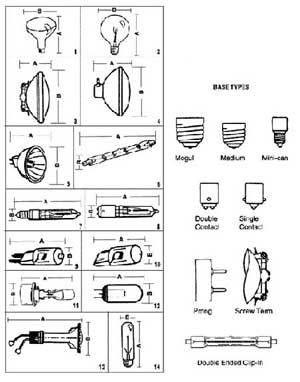 Swimming Pool Bulbs come in a wide variety of shapes and styles. Illustrated on the left are various shapes, bulb base types and wiring connections.
In addition to the shape of the bulb. You must match voltage and wattage. Just because it looks the same it might not be.
Today, most pool lights are low voltage typically 12 volts. There exist some older pool lights that operate on 110-120 Volts. Thistype of pool lighting should be replaced with fixtures that operate at low voltages. At the very least a ground fault circuit should be installed and tested frequently.
110-120 Lighting systems for pool are dangerous, building codes today prohibit the installation 110-120 volts system in new construction and when renovating a pool often the code requires updating the lighting to 12 volt systems. Check you local building code for specific requirements.
Part Numbers and Purchasing
Sku #
Key
A
B
Part #
Description
Buy Me

EL-00290

1

100/R20/12V

100W, 12V, Medium Base, R20

EL-00291

1

100/R20/120V

100W, 120V, Medium Base, R20

EL-00293

1

100/R30/12V

100W, 12V, Medium Base, R30

EL-00271

1

300/R40/12V

300W, 12V, Medium Base, R40

EL-00295

1

6.56

300/R40/120

300W, 120V, Medium Base, R40

EL-00296

1

400/R40/120

400W,120V, Medium Base , R40

EL-00297

1

500/R40/120

500W, 110V, Medium Base . R40

1

500R/3/FL

500W, 110V, Mogul Base / SP-504-Z-4

EL-00299

2

5.13

400/G30/FL

400W, 110V, Medium Base, G30, 791020 / SP-503Z5

EL-00210

3

100/PAR56/12

100W, 12V, par 56, Sealed Beam, Screw Terminals (4305)

EL-00127

3

5.00

300/PAR56/12

300W, 12V, par 56, Sealed Beam,Screw Terminals(4319)

EL-00130

4

300/PAR56/120

300W, PAR56 Sealed Beam Mogul Prong

EL-00218

5

2.0

1.880

75/QMR/12

Open Face Multi-Reflector 12V/75W,2 pin (EYC)

EL-00216

5

2.0

1.750

50/QMR/12

Open Face Multi-Reflector 24V/250 Watts (ELC)

5

150/QMR/21
Open Face Multi-Reflector 21V/150 Watts (EJA)

EL-00230

6

3-1/16"

100/QT3/120

100W, 120V, 2 Pin(T3), GY6.35

EL-00224

6

3-1/4"

150/QT3/12

150W, 12V, QT3, Quartz Halogen Lamp

EL-00231

6

3-1/4"

250/QT3/250

250W, 120V, QT3, Quartz Halogen Lamp

EL-00232

6

4-5/8

"

300/QT3/120
300W, 120V, QT3, Quartz Halogen Lamp
EL-00152

6

500/QT3/120
500W, 120V, QT3,

Quartz Halogen Lamp

EL-00152

6

3-1/4
7/16

500W 120V for Sunsaver, Quartz 346000019, Purex 74589

EL-00256

7

3.16
250Q/CL/MC
250W, 120V, THD mini-can (EHT), American Products 791138
EL-00257

7

1.38
100/ESN/120
100W ,120V, Mini-Can
EL-00254

8

2-3/4
5/8
100Q/CL/DC
100W, 120V, double contact (ESR), American Products 791125
EL-00155

8

2-3/4
5/8
250Q/CL/DC
250W, 120V, double contact (ESS), American Products 791127

EL-00233

9

1-9/16"

50/QClear/12

50W, 12 Volt, 2 Pin, Q-Clear

EL-00215

9

1.75

100/FCR/12

100W, 12V,2 Pin(T4), Quartz Halogen

EL-00280

9

2-3/4
100W. 120V, Bayonet Mount

10

P1110
12W, 12V Bayonet Mount, American Products 791172

11

APC1225MP
25W, 12V Mini Prong

12

1-5/16
7/16
APC12602P
60W, 12V, Halogen Bulb, Sunstar 346000008, American Products 751148, Purex P03310/ 70520

EL-00225

13

69100000

35W, 12V, Bulb Assembly, Aqua-Luminator p/n 69100000

14

5.5
250T14/1
250W, 110V, med base, Hot Dog ()
Links
Legend
Terms:
NLA = No Longer Availble.
DS = Drop Shipped, Cannot be combined with any other Items.
OS=Cannot Ship UPS & Cannot be combined with other items