Sta-Rite Dura-Glas II Pool Pumps
Sta-Rite Dura-Glas II Pump
Sta-Rite Dura-Glas II Pump features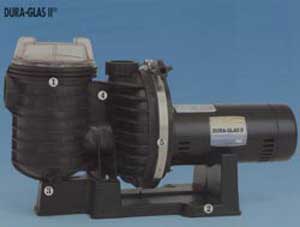 Proven Features of the Dura-Glas family of pumps.
1 Newer Larger capacity trap to reduce maintenance by collecting large amounts of debris without clogging or starving the pump.

2. Elevated pump base allows easy access to the motor, allowing air to circulate around the motor and not disturb piping during maintenances.

3. Finger-Opening drain plugs lets you winterize your pump without using tools.

4. Thermoplastic housing withstands the elements and temperature extremes.

5. Control room design, encloses the motor to prolong pump life, yet provides easy access for installation/service.
Part Numbers and Purchasing
Sta-Rite Dura-Glas II Pump Pricing
| | | | |
| --- | --- | --- | --- |
| SKU # | Model | Description | Buy Me |
| PU-0009 | P4RA5E | Sta-Rite Dura-Glas-II 1-1/2 HP pump | NLA |
| PU-0007 | P4RA6G1 | Sta-Rite Dura-Glas-II 2 HP pump | NLA |
Links
General Information on Pool Pumps
Complete Listing of Pool Pumps
Pool Pump Parts
Sta-Rite Pool Pump Dura-Glas Parts Diagram
Sta-Rite Pool Pump Dura-Glas II Parts Diagram
Legend
Terms:
NLA = No Longer Available.
DS = Drop Shipped, Cannot be combined with any other Items.
OS=Cannot Ship UPS & Cannot be combined with other items