Star-Clear II Cartridge Filter
Star-Clear II Cartridge Filter
Star-Clear II Cartridge Filter Features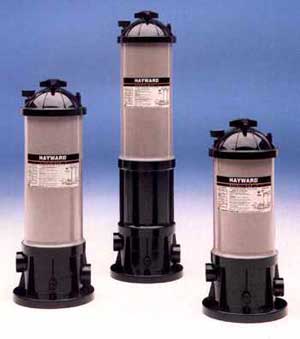 Key Features:
Single locking knob, securely fastens filter head to tank, and still allows fast access to the cartridge to allow cleaning.
Filter Head. Easily rotate able to allow position of the pressure gauge, for viewing. Has pressure relief valve to safety.
Heavy Duty Tank filter. Injected molded of Duralon for dependable corrosion-free performance.
Automatic Air Relief. Purges trap air automatically during filter operation.
Cartridge element is engineered of high quality reinforced polyester, with gasket molded end caps for maximum efficiency, easier cleaning and longer life.
1/2" filter drain valve provides fast draining for elevated spas and tubs.
Available in 3 sizes. 75, 100 & 150 sq-ft.
Star-Clear II Cartridge Filter Specifications
Model Number
Effective Filtration Area

Design Flow Rate

Turnover
8 hours
gallons
C-800
75 sq -ft
75 gpm
36,000
C-1100
100 sq-ft
100 gpm
48,000
C-1500
150 sq-ft
150 gpm*
72,000
Part Numbers and Purchasing
Star-Clear II Cartridge Filter Pricing
| | | | |
| --- | --- | --- | --- |
| SKU # | Description | Model | Buy Me |
| FI-05508 | Hayward C800, Star-Clear II Cartridge Filter, See C900 as a Replacement | C-800 | NLA |
| FI-05516 | Hayward Star-Clear II Cartridge Filter Model C11002, Replaced by C12002 | C-1100 | NLA |
| | Hayward Star-Clear II Cartridge Filter Model C15002, Replaced by C175002 | C-1500 | NLA |
Links
Legend
Terms:
NLA = No Longer Availble.
DS = Drop Shipped, Cannot be combined with any other Items.
OS=Cannot Ship UPS & Cannot be combined with other items