Aladdin No Niche Skimmer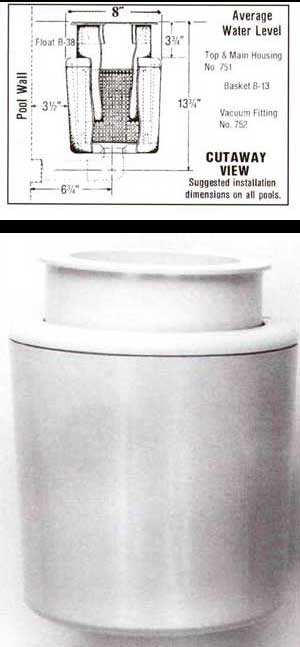 Swimming Pool Replacement Skimmer. Aladdin No-Niche Skimmer 750 No-niche is no ordinary skimmer. It replaces the need for a niche.
No-niche® is efficient. With 360° skimmer actions, No-niche® has sufficient skimming power to allow opening of the main drain. Water filters faster, keeping the pool cleaner. No-niche® works on a floatation system that automatically adjusts to average water level changes.
No-niche® is compact. It does a big job while remaining unrobstructive and almost invisible. No-niche® utilizes an exceptionally large skimmer basket considering it's compact size to filter more debris without clogging. It can be used in new pool construction, with existing VAC outlets, or in place of an inefficient
skimmer.

No-niche® is constructed from ABS plastic for strength and durability. It comes complete with a vacuum fitting (No. 752). With the basket and float removed, the hose fitting attaches to the hose and the bottom of the skimmer without threading. For New or existing pools, an line plumb to the suction side of the pump is installed. Typically this line is 1-1/2 inches and has female threads
An Existing skimmer can be used.
If the pool has an existing vacuum line. It can be used with the Aladdin No-Niche skimmer
Aladdin No-Niche Skimmers
Legend
Part
Number

Description

SKU #

Purchase

Complete Aladdin No-Niche Skimmer 750, White

SK-09005

Complete Aladdin No-Niche Skimmer 750, Black

SK-09005B

B-13

Basket for No-Niche Skimmer B-13

BA-0013G

Weir for No-Niche Skimmer B-38

BA-0038G

Vacuum Adaptor for No-Niche Skimmer 752

SK-09004
Terms:
NLA = No Longer Available.
DS = Drop Shipped, Cannot be combined with any other Items.
OS=Cannot Ship UPS & Cannot be combined with other items