Baracuda Alpha 3 Automatic Cleaner
Baracuda Alpha 3+ In-Ground Suction Pool Cleaner
The Baracuda Alpha3 has been discontinued. Newer Models include the Baracuda G3 and Baracuda G4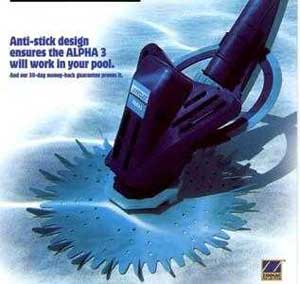 The Baracuda Alpha 3 will thoroughly clean your in-ground pool, including the walls automatically - removing dirt, debris, bugs, twigs, leaves and even pebbles. And it's anti-stick design ensures Maximum coverage, because it can dislodge itself from steps ladders and corners and keep on cleaning your pool.
You can install a Barracuda in minutes. Since it's pre-assembled in the box, just attach the hose. No tools or special pulling needed. The Alpha 3 has the FLOWKEEPER, a self adjusting water control valve and surface skimmer all in one, which automatically regulates water flow, ensuring peak performance, even with lower horsepower pumps. The Alpha 3 cleans automatically, anytime your pump runs.
The alpha 3 has only one operational moving part, the diaphragm. If it should ever need service, its patented easy access system let's you remove it, service it yourself and replace it, right at home, In fact because Alpha 3 has only one moving part, it has the lowest maintenance costs.
Other cleaners make an annoying flapper or hammer noise. The Alpha 3 is built to work quickly, quietly and effective.
Baracuda Pool Cleaner Model
Part #

Description

SKU #

Purchase

Alpha

Alpha

Baracuda Alpha (Discontinued)

NLA

NLA

Alpha 2

Baracuda Alpha 2 (Discontinued)

NLA

NLA

Beta

Baracuda Beta (Above Ground, Discontinued)

NLA

NLA

Alpha 3

Baracuda Alpha 3 (Discontinued)

NLA

NLA

Alpha 3 +

Baracuda Alpha 3 Plus (Discontinued)

NLA

NLA

G3

Baracuda G3 (In Ground)

AC-02307

G4

Baracuda G4 (In Ground)

AC-02308
Alpha3 Parts Diagram Link
Legend
Terms:
NLA = No Longer Available.
DS = Drop Shipped, Cannot be combined with any other Items.
OS=Cannot Ship UPS & Cannot be combined with other items