AquaBot Turbo Electric Robotic Pool Cleaner
AquaBot Turbo Electric Robotic Pool Cleaner
Robotic Swimming Pool Cleaners

. AquaBot Turbo Electric Robotic Pool Cleaner. Super fast cleaning power for larger pools!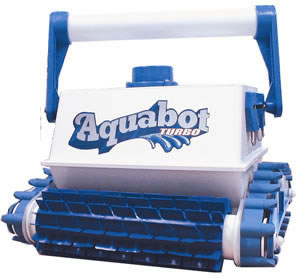 This "turbo" model has the same great features as the original Aquabot™t, but it is faster and it will clean a larger pool. In addition, the Aquabot™ Turbo will automatically turn itself off after a 7-hour cleaning cycle. The powerful cleaner works almost twice as fast as the original Aquabot™, filtering up to 4,200 gallons per hour and cleaning your pool in 4 hours of less.
Designed for pools up to 20' x 50'. The Aquabot™ Turbo comes complete with the head, 60-feet of floating cord and transformer. Clean your pool fast this season with this computer-controlled dynamo. Weighs 18lbs. Backed by a 1-Year Warranty. (Extended warranty available through the manufacturer.)
To Compare Aquabots, Click Here
Part Numbers & Purchasing
Part
Number

Description

SKU

Purchase
Aquabot™ Turbo

AC-05002

Aquabot™ Replacement Filter Bags


AC-05028
Links
Legend
Terms:
NLA = No Longer Available.
DS = Drop Shipped, Cannot be combined with any other Items.
OS=Cannot Ship UPS & Cannot be combined with other items