Hayward Aqua Bug, Above Ground Pool Cleaner
AquaBug Above Ground Pool Cleaner
The Aqua Bug provides you with easy, trouble free operation. You never need to empty or replace debris bags. And Because AquaBug works with your existing filtration system - no extra energy or booster pump is required. Typical installation is 10 minutes. Hooks to a vacuum line or Skimmer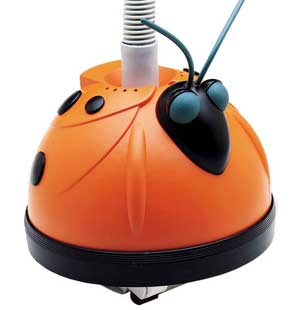 Typical Uses:

Level depth in-ground vinyl pools

Above-ground pools (flat or dished bottoms)

On-ground pools
Key Features
Patented Smart Drive programmed steering system ensures the entire bottom of the pool is cleaned quickly and completely
Installs in less than 10 minutes, without tools
Unique turbine/gearing system provides constant balanced water flow assuring quiet operation and gentle movement across the pool bottom
Improves water circulation by pulling water from the pool bottom as it moves
Advanced, contoured head design allows the AquaBug to complete the steering pattern in minimal time
Deluxe bumper ring minimizes friction for easy movement away from walls and resumption of the programmed steering pattern
Slotted santropene corked shoes for quick turns
The Aqua Bug provides you with easy, trouble free operation. You never need to empty or replace debris bags. And Because AquaBug works with your existing filtration system - no extra energy or booster pump is required. Typical installation is 10 minutes. Hooks to a vacuum line or Skimmer.
The AquaBug improves water circulation by acting as a main drain, pulling water from the bottom of your pool as in moves about the pool. Your water circulates more and stays cleaner.
The Aqua Bug is a smart alternative to the drudgery of manually cleaning your pool. Check out the face of the AquaBug, it will grow on you.
Uses Hayward patented Smart Drive, which is a programmed steering system, Aqua Bug won't miss a spot - Gobbling everything from microscopic dust to larger debris. doing it automatically giving your family more time to enjoy the pool.
Part Numbers and Purchasing
Part
Number

Description

SKU

Purchase

500

Hayward Aqua Bug Above Ground Cleaner (32 feet Hose, adapter cone)

AC-00808
Links
Legend
Terms:
NLA = No Longer Available.
DS = Drop Shipped, Cannot be combined with any other Items.
OS=Cannot Ship UPS & Cannot be combined with other items