Swimming Pool Cleaners -Baracuda G3
Baracuda G3 Pool Cleaners
This top-of-the-line BARACUDA G3 cleaner will thoroughly clean your in-ground pool floor and walls to automatically remove dirt, debris, bugs, twigs, leaves, sand and even pebbles. Its bumper fin and anti-stick design ensure maximum coverage and increased maneuverability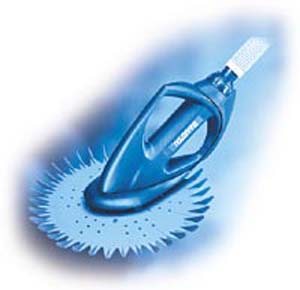 Baracuda G3™ IS EASY TO INSTALL.
You can install the BARACUDA G3 in minutes. Since it's pre-assembled in the box, just attach the disc and Long-Life hose. No tools are required. We even include an easy-to-follow video to show you what to do. The BARACUDA G3™ also has the FLOWKEEPER®, a self-adjusting water control valve and surface skimmer all in one, which automatically regulates water flow ensuring peak performance.
Baracuda G3™ IS POOL OWNER FRIENDLY.
The BARACUDA G3 is one of the most pool-owner-friendly cleaners ever made. It has only one operational moving part, the Long-Life diaphragm. If it should ever need service, its patented Quick Release Cassette lets you remove it, service it yourself or replace it pool side.
Baracuda G3™ IS QUIETER.
Other automatic pool cleaners have a flapper, which makes an annoying hammer noise. The BARACUDA G3™ is built to work quickly, effectively and quietly. ZODIAC, a leading manufacturer of automatic pool cleaners, has designed the Baracuda G3™ to clean your in-ground pool more thoroughly, effectively, and economically than ever before. No other automatic pool cleaner is built better. So, don't take a chance on another pool cleaner, tell your ZODIAC dealer or pool professional you want the cleaner that will clean your pool like never before. The Baracuda G3™. The choice has never been so simple. Patented Long-Life Diaphragm The Baracuda G3™ has only one operational moving part-the Long-Life Diaphragm, ensuring peak performance, maximum power and low-cost maintenance. FlowKeeper® Valve Compact self-adjusting flow control valve automatically regulates water flow, ensuring peak performance even with lower horsepower pumps.
2-Year Limited Warranty
The BARACUDA G3™ is warranted against manufacturing defects and all wear and tear for 2 years. Even the hoses are covered for 2 years
Long-Life Hose
Durable, scuff-resistant hoses are suitable for pools with Diamond Brite® or Pebble Tech® finishes.
Part Numbers and Purchasing
Baracuda G3 Pool Cleaners
| | | | |
| --- | --- | --- | --- |
| Part Number | Description | SKU # | Purchase |
| G3 | Baracuda G3 (in-ground) complete with hoses | AC-02307 | |
Links
Legend
Terms:
NLA = No Longer Available.
DS = Drop Shipped, Cannot be combined with any other Items.
OS=Cannot Ship UPS & Cannot be combined with other items