S.R. Smith, Frontier Swimming Pool Slides
S.R. Smith, Frontier Swimming Pool Slides
We offer a complete line of Swimming Pool Slides and parts, from all the major manufactures.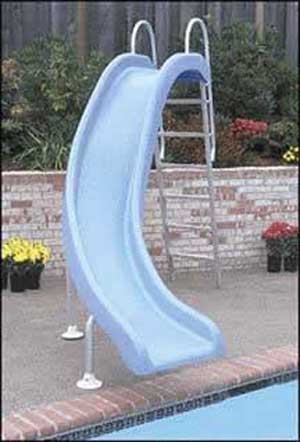 Elegantly designed in right or left hand curves, the slide handrails peaks at 8 feet off the deck, the slide is offered in marine blue or white. It can be installed during pool construction or added to existing pools using the optional deck mounting kit. The ladder assembly is very durable and easy to install
With the new Acrylic construction process the Frontier III slide is scratch resistant. The color is in the acrylic material, not just in the surface, providing a color that will not fade after many years of use.
New "U" shaped construction, makes installation and adjustment of the Frontier II easier and quicker than any other slide on the market. Vacuum formed providing a consistently formed slide.
Part Numbers and Purchasing
Swimming Pool Slide Summary
| | | | |
| --- | --- | --- | --- |
| SKU # | Description | Part Number | Purchase |
| NLA | S.R. Smith Pool Slide Curve Left - White | | NLA |
| NLA | S.R. Smith Pool Slide Curve Right - White | | NLA |
| NLA | S.R. Smith Pool Slide Curve Left - Blue | | NLA |
| NLA | S.R. Smith Pool Slide Curve Right - Blue | | NLA |
| LA-01003 | S.R. Smith Slide Deck Anchor Flange with Hardware (Surface Mount) | AF-4 | |
Links
Legend
Terms:
NLA = No Longer Available.
DS = Drop Shipped, Cannot be combined with any other Items.
OS=Cannot Ship UPS & Cannot be combined with other items