Swimming Pool Heaters, Hayward H Series Heaters
Hayward H Series Heaters
The decision to add a recreational water heater to your swimming pool or spa can single-handedly warm your heat on even the chilliest Indian summer's night. A pool heater will extend you swimming season, allowing you to enjoy your pool longer than an unheated pool.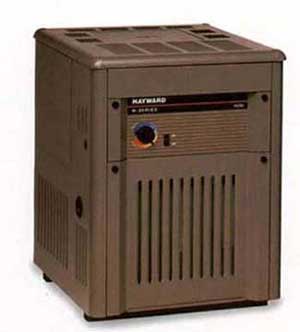 The Hayward H-Series Gas heaters incorporates the most advanced heating technology available to provide swimming comfort year round.
The H- series features include a rust resistant water path, a rapid combustion chamber, and direct spark ignition (Electronic ignition models), plus much more.
Ultimate durability the Hayward Series provide a rust resistant water path.
Connect with CPVC. The H-Series ability to cool down quickly after heating you pool or spa to the desired temperature allows the use of CPVC plumbing connections. Heat sinks are not required. CPVC connector kit included with every order. (Illustration bottom right)
The H series headers are manufactured from a modern injection-molded polymer process. The benefits are lighter weight for easier installation and rust free durability for extended product performance (Illustration Bottom Left)
H Series Specifications
Model

Surface Area

H-400
1200
H-350
1050
H-300
900
H-250
750
H-200
600
H-150
450

The surface area may be calculated one of the following formulas:
rectangle = L x W Where L= Length and W= Width
circle = R x R X 3.14, Where R= Radius(1/2 Distance across the Pool)
Kidney = (A+B) x L x .45 , where A= Shortest Width, B= Largest Width, L=Length

For indoor installation, multiply actual area by three (3).
Table Assumptions:
30' F temperature increase.
3-1/2 MPH wind average wind velocity.
Elevation up to 2000 feet.
One step higher than recommended is satisfactory.
| | | | | | |
| --- | --- | --- | --- | --- | --- |
| Model | BTU/HR | WIDTH | DEPTH | HEIGHT | WEIGHT |
| H-400 | 400000 | 35-1/4" | 27-1/2" | 28-1/2" | 241 |
| H-350 | 350000 | 32-1/2" | 27-1/2" | 28-1/2" | 225 |
| H-300 | 300000 | 29-3/4" | 27-1/2 | 28-1/2" | 211 |
| H-250 | 250000 | 27" | 27-1/2" | 28-1/2" | 198 |
| H-200 | 200000 | 24-1/2" | 27-1/2" | 29-1/2" | 180 |
| H-150 | 150000 | 21-1/4"` | 27-1/2" | 29-1/2" | 165 |
Part Numbers and Purchasing
Model
BTU/HR

Description

SKU #

Buy Me

H400PED2

400000

Hayward Propane Gas Heater - 400,000 BTU - Electronic

HE-02525

H400P1

400000
Hayward Propane Gas Heater - 400,000 BTU - Millivolt

HE-02512

H400ED2

400000
Hayward Natural Gas Heater - 400,000 BTU - Electronic

HE-02524

H4001

400000
Hayward Natural Gas Heater - 400,000 BTU - Millivolt

HE-02520

H300PED1

300000
Hayward Propane Gas Heater - 300,000 BTU - Electronic

NLA

H300ED2

300000

Hayward Natural Gas Heater - 300,000 BTU - Electronic

HE-02522

H250PED2

250000

Hayward Propane Gas Heater - 250,000 BTU - Electronic

HE-02523

H250P1

250000

Hayward Propane Gas Heater - 250,000 BTU - Millivolt

HE-02510

H250ED1

250000

Hayward Natural Gas Heater - 250,0000 BTU - Electronic

NLA

H2501

250000

Hayward Natural Gas Heater - 250,000 BTU - Millivolt

HE-02508

H200ED1

200000

Hayward Propane Gas Heater - 200,000 BTU - Electronic

NLA

H200PED1

200000

Hayward Natural Gas Heater - 200,000 BTU - Electronic

NLA

H150PED1

150000

Hayward Propane Gas Heater - 150,000 BTU - Electronic

NLA

H150P1

150000

Hayward Propane Gas Heater - 150,000 BTU - Millivolt

HE-02502

H150ED1

150000

Hayward Natural Gas Heater - 150,000 BTU - Electronic

NLA

H1501

150000

Hayward Natural Gas Heater - 150,000 BTU - Millivolt

HE-02500
Links
Legend
Terms:
NLA = No Longer Available.
DS = Drop Shipped, Cannot be combined with any other Items.
OS=Cannot Ship UPS & Cannot be combined with other items
]