Automatic Pool Cleaners, Jandy Ray-Vac
Jandy Ray-Vac
Models of the Jandy Ray Vac: Concrete, Vinyl/Fiberglass and Dessert. We offer a complete line of automatic swimming pool cleaners and parts, from all the major manufactures. This page details the features of the Jandy Ray Vac automatic pool cleaner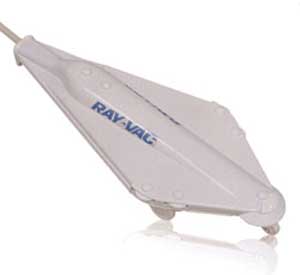 Ray Vac - Relax.. let the Jandy Ray-Vac do all the work. The Jandy Ray-Vac glides across the walls and floor of your pool while silently vacuuming all debris in its path. It sleek efficient design and powerful venturi-action captures dirt, leaves and other floating debris. Trailing behind are powerful line jets and a whip hose specifically designed to power out surface dirt for removal by your filtration system.

The Jandy Ray-Vac uses venturi action and simple water power for superior propulsion and vacuuming.
Thoroughly cleans corners, steps and love seats. The unique shape of the Ray Vac allows it to reach and clean areas of your pool other cleaners can't - Including most steps, love seats and corner areas.

Silent, Powerful, Hydro-dynamic Design. For safe pressure side cleaning, the Ray-Vac is propelled by an advanced hydrodynamic system that uses venturi action and simple water pressure for propulsion and vacuuming.
Cost Less to Maintain. Inexpensive to maintain due to the lack of delicate gears, the Ray-Vac does not have powered wheels or feet that will continuous wear against the surface of the pool.
Part Numbers and Purchasing
| | | | |
| --- | --- | --- | --- |
| MODEL | SKU | Description | Buy Me |
| | AC-01500 | Jandy Ray Vac (Concrete) | NLA |
| | AC-01501 | Jandy Ray Vac (Vinyl) | NLA |
| | AC-01502 | Jandy Ray Vac (Dessert) | NLA |
Links
Legend
Terms:
NLA = No Longer Available
DS = Drop Shipped, Cannot be combined with any other Items.
OS=Cannot Ship UPS & Cannot be combined with other items