Hayward Perflex Extended Cycle DE Filter
Hayward Perflex DE Filters
Perflex Extended-Cycle D.E. filters clean pools fast, removing particles as small as two microns the first time through. Its patented Flex-Tube? design gives longer cycles between cleaning because the same D.E. filter powder is used over and over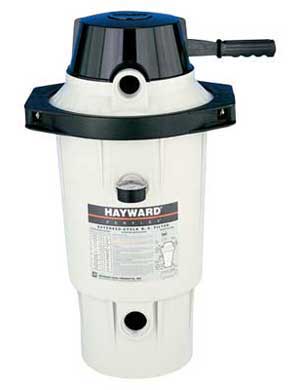 Hayward Perflex EC-40 Clamp Style Lid (Top)
The Perflex filters use diatomaceous earth powder (commonly called D.E.). D.E. will remove particles as small as one micron and is the most efficient dirt remover known. It will remove microscopic dust and pollen.
Unfiltered water enters Through the bottom connection in the filter tank, flows upward Through the Flex-tubes and returns to the pool via the outlet in the filter head.
When the filter is initially started. D.E. powder is is fed into the filtration system, usually Through the skimmer. This is called pre-coating. As the water passes Through the flex-tubes the filter powder is automatically coated on the outside of the filter-tubes, forming the working surface. As pool water passes Through the filter, the D.E. coating traps the contaminants, causing the filter pressure to rise.
Normal filters would require backwashing to reduce the pressure. The Perflex only requires bumping. Backwash is only necessary, when bumping does not restore the normal flow.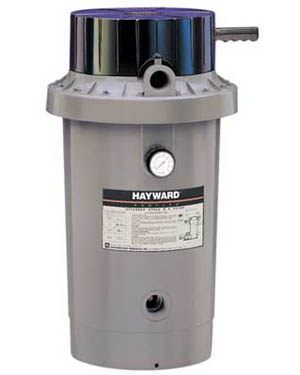 Hayward Perflex EC-75 Bolt Style Lid

Hayward Perflex Specifications
| | | |
| --- | --- | --- |
| Perflex Model | Horsepower | Turnover (8 hours) |
| Model EC-65 | 1/2 HP | 21,000 |
| Model EC-65 | 3/4 HP | 28,000 |
| Model EC-65 | 1.0 HP | 32,000 |
| Model EC-75 | 1.5 HP | 36,000 |
Part Numbers and Purchasing
Hayward Perflex Filters, Models
| | | | |
| --- | --- | --- | --- |
| SKU # | Model | Description | Buyme |
| FI-05520 | EC-40 | Hayward Perflex DE Filter Model EC-40B | |
| FI-05522 | EC-50 | Hayward Perflex DE Filter Model EC-50A | |
| FI-05524 | EC-65 | Hayward Perflex DE Filter Model EC-65 | |
| FI-05528 | EC-75 | Hayward Perflex DE Filter Model EC-75 | |
Links
Legend