Hayward Phantom Pool Cleaner
Hayward Phantom Pool Cleaner
The Hayward Phantom cleaner is an water pressure driven pool cleaner that sinks and rises to clean all of the surfaces of your pool.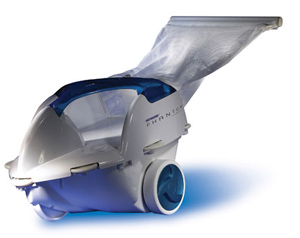 The world`s only total pool cleaner has finally surfaced! Introducing the Hayward Phantom, designed to totally clean the pool bottom, walls, steps, and automatically rises to skim debris from the pool`s surface. In auto mode, Phantom cleans the bottom and sides for approximately 13 minutes, then the Phantom automatically rises to skim the pool`s surface and steps for approximately 7 minutes -- then dives down repeating the cycle until your pool is amazingly clean.
Additionally, the Phantom is equipped with a 41% wider vacuum nozzle for faster cleaning, a large 6-quart debris bag that you empty less often, a sweep hose that doesn't spray out of the pool and with programmable AquaDrive water jet propulsion, it covers the pool better, spends less time backing-up and eliminates wear on the pool surface.
Features:
Picks up everything from dirt and large leaves to acorns, twigs, pebbles and more
Less frequent bag emptying with the large 6-quart debris bag
Faster cleaning with the widest vacuum nozzle and most effective sweep hose
Patented AquaDrive water jet propulsion won't harm the pool surface as power driven wheels can.
Complete pool coverage with patented AquaDrive technology minimizes backup time so the Phantom spends more time cleaning with better coverage.
The Phantom Turbo will work with your existing booster pump, or if needed the booster pump can be purchased separately
Part Numbers and Purchasing
Pressure Driven Pool Cleaner
| Vendor Number | Description | SKU Number | Buy Me |
| --- | --- | --- | --- |
| 6000 | Hayward Phantom Pool Cleaner | | NLA |
Links
Hayward Phantom Pool Cleaner Parts Diagram
Complete Listing of Pool Cleaners
Legend
Terms:
NLA = No Longer Available.
DS = Drop Shipped, Cannot be combined with any other Items.
OS=Cannot Ship UPS & Cannot be combined with other items