Pool Keeper, Swimming Pool Water Leveler
Marpac Pool Keeper.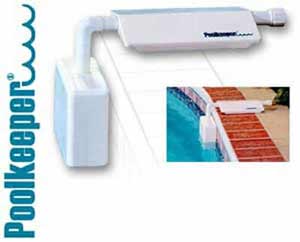 Automatically maintains pool water at preset level.
Pools may lose water for any number of reasons: evaporation from sun and wind; active swimmers splashing water from the pool and carrying water with them when they emerge; or, a minor leak in the pool itself.
If the water level drops below the skimmer and causes the pump to run dry, serious damage to the pump motor can occur.
Pool owners must constantly check water levels, turn on the hose to fill the pool and then worry about turning it off before overfilling.
Poolkeeper® is small and easy to use. Just attach Poolkeeper® to a good grade garden hose, place the unit at pool side and turn on the water.
Poolkeeper® gives pool owners peace of mind that may only be equaled by having a paid attendant check the pool frequently.
Features:
Automatically maintains water level
Helps prevent pump motor damage
Less than half the size of similar units
Easy to install 1.) Simple assembly requires no tools 2.) Requires no rocks or sand bags to stabilize 3.) Requires no plumbers or electricians 4.) Requires no structural modifications
Ideal when travel prevents checking pool
Completely portable - easily moved to different locations around your pool
Limited one year warranty
Specifications:
Connects to standard garden hose - works on water pressure
Above pool deck:1.5" Height, 6 3/8" Width, 16 5/8" Length
Weight:3.3 pounds
Depth Adjustable to Preferred Water Level
Installs in Minutes
Poolkeeper MADE IN AMERICA
Pool Keeper, Swimming Pool Water Leveler
Part Numbers and Purchasing
Swimming Pool Auto Leveler
| Part Number | Description | Sku # | Buy Me |
| --- | --- | --- | --- |
| | PoolKeeper - Automatic Water Leveler, Pool Keeper is Discontinued | -- | NLA |
| | Use - Pool Sentry Water Leveler Pool Filler, M3000 as a Replacement | SK-00055 | |
Terms:
NLA = No Longer Available.
DS = Drop Shipped, Cannot be combined with any other Items.
OS=Cannot Ship UPS & Cannot be combined with other items