Solar Saddle, For Storing Solar Blankets on Above Ground Pools
Solar Saddle Pictures
Solar Saddle Solar Blanket Holder. The First, easy handling and storage system You can now easily handle and store your solar cover, which is neatly folded and conveniently stored out of the way in minutes. Solar Saddle is easily connected to your pool on any side you desire. In one step, you remove and neatly store your solar cover. Your solar cover can be placed back on your pools water surface, easily, while you are either in or out of your pool. Truly the first, EZ on EZ off, solar cover storage system. Easy to use, Simple to Install, and Affordable.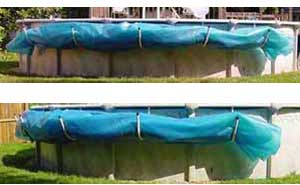 General Installation Directions:
Believe me it is hard to write easy directions!
Tools requires; a 1/4" metal drill bit, a drill, a screwdriver and a small adjustable wrench.
Evenly space out the five saddles, and allow 2 1/2 to 3 feet for the cover to extend over/past the outside holders. The first step in mounting is to locate where you want to place the saddles. The second step is to mount the center bracket. Hold the bracket under the top rail close to the side wall. Either mark where the 1/4" holes will be drilled or just hold the bracket and drill using the bracket holes as a location guide. Two holes are required per bracket. Now locate where to place the outside saddle brackets. Measure around the outside of the pool 10 feet and place the brackets. This lets you get full use of the 24 foot protective cover. Note: If you have a large pool you just fold the solar cover back on top of the outside saddles, this allows the Solar Saddle to be used with the largest sizes of pools. i.e.., 28, 30, etc. Now mount the last two saddles between the center and outside saddles, your done. Project time 20 to 30 minutes, or less, it's really quite easy. The holders extend from the side of a pool about 22" and down the edge of the pool about 26". General directions! The long and short of mounting the accessory is to evenly space out the five holders, and allow 2 1/2 to 3 feet for the cover to extend over/past the outside holders. A Solar Saddle Unit comes with 5 holders and hardware. Once you get started you should be able to complete the project in 20 to 30 minutes,or less, it's really quite easy. That time will be returned to you several times over. If you are in a real hurry, a cover can be put on or taken off and stored in 2 to 3 minutes, by one person! I used to spend a lot more time than that, and when the cover was off, it always seemed to be in the way. Our prototype was designed on a 24 foot round pool and only used four holders, adding the fifth really completed the system. We have sold this accessory to people who had a reel and they gave the reel away. That kind of says a lot!Solar Cover Holder and Management System
Purchase Information
Sku

Part
Number

Description

Purchase

HE-12500

Solar EZ

Solar Saddle - solar blanket holder for above ground pools
Popular Links
To Return to Solar Blankets Page Click Here
Legend
Terms:
NLA = No Longer Available.
DS = Drop Shipped, Cannot be combined with any other Items.
OS=Cannot Ship UPS & Cannot be combined with other items