Swimming Pool Lighting, Hayward Starlite II
Hayward Starlite II Pool Light
Hayward Starlite II Pool Light features. We offer a complete line of swimming pool Lights & Fixtures. For a variety of swimming pool construction types. We can supply your needs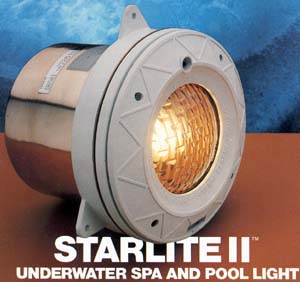 Hayward Starlite II underwater Spa and Pool Light. Hayward's Starlite II lighting fixtures add a new dimension of beauty, safety and enjoyment to any pool or spa. Compact and attractively styled, they are easy to install and quality built of corrossion-proof materials for years of dependable service. Starlite II continues the tradition of Hayward product value and leadership.
Note: The StarLite II Light is no longer being manufactured and there is no replacement for this product. The Niche would have to be update and a new light fixture installed. Parts are available for the StarLite II
Duralon face rim - Non-conductive, resists chemical attack, which can cause discoloration.
UL listed and test approved. All fixtures are equipped with a built in automatic thermostat to protect against low water operation
Unitized fixture assembly encases and protects critical seal area. Keeps seal parts clean and free from image and distortion
Compact design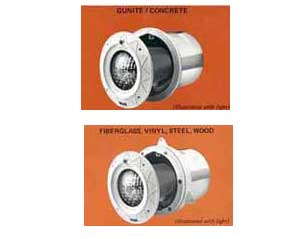 Model Sp-505 Fixture Housing / Niches made of cooper Duralon water proof shell with 3/4" conduit. UL combo ground, Duralon face pate, gaskets and screws for up to 3/8" thick walls. Has drilled mounting holes for wood panel pools
Model Sp-558 Heavy gauge copper shell with Duralon mounting rim. Complete with combination ground connector for internal and/ or external grounding, 3/4 " conduit connection.
Part Numbers and Purchasing
Hayward StarLite II Pool Light Purchasing
SKU

Part
Number

Description

Purchase

SP0550L-13
100 Watt, 12 Volt, Light Only, 13 foot Cord

NLA

SP0550L-26
100 Watt, 12 Volt, Light Only, 26 foot Cord
SP0551L-13
100 Watt, 115 Volt, Light Only, 13 foot Cord
SP0551L-26
100 Watt, 115 Volt, Light Only, 26 foot Cord
SP505
Housing Niche Fiberglass, Vinyl, Steel, Wood
SP558
Housing Niche Gunite, Concrete
Links
Click here to return to Electrical Items listing
Legend
Terms:
NLA = No Longer Available.
DS = Drop Shipped, Cannot be combined with any other Items.
OS=Cannot Ship UPS & Cannot be combined with other items