Swimming Pool Light Transformers
Swimming Pool Light Transformers
Swimming Pool Light Transformers Features. Swimming Pool Light transformers reduce voltages from 120 or 240 Volts down to 12, 13 or 14 Volts. The lower voltage is mandated by many building codes and the use of higher voltage should strictly be avoided.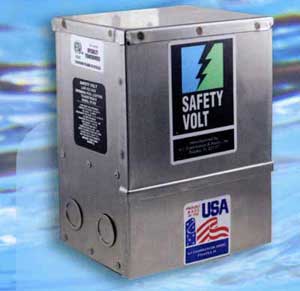 Safety Volt Transformers
Stainless Steel Enclosure
ETL Listed to provide safe isolated 12 Volts to swimming pool Lights
Grounded Shield between primary and secondary coils.
Internal circuitry automatically resets, no fuses to deal with.
Large front Wiring Compartment, for ease of installation.
Ground terminal, up front and centered.
Waterproof construction and encapsulation protects the coils.
Six Convenient knockouts.
All Units Rated 50 / 60 Hz.
Part Numbers and Purchasing
| Part Number | Description | SKU # | Buy Me |
| --- | --- | --- | --- |
| ST100 | 100 Watts, !20 Volts to 12 Volts | EL-00564 | |
| ST300 | 300 Watts, 120 Volts to 12 Volts | EL-00565 | |
| MT100 | 100 Watts, 120 Volts to 12-13-14 Volts | EL-00560 | |
| MT300 | 300 Watts, 120 Volts to 12-13-14 Volts | EL-00561 | |
| CP300220 | 300 Watts, 220 Volts to 12 Volts | EL-00567 | |
| CP300220M | 300 Watts, 220 Volts to 12-13-14 Volts | EL-00568 | |
Links
Swimming pool Electrical items category listing
Legend
Terms:
NLA = No Longer Available.
DS = Drop Shipped, Cannot be combined with any other Items.
OS=Cannot Ship UPS & Cannot be combined with other items
]