AquaCal Heat Wave Heat Pumps
AquaCal Heat Wave Heat Pumps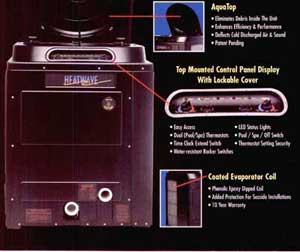 AquaCalis one of the oldest manufacturers of Heat pumps for pools and spas in the industry. AquaCal is committed to quality and perform as design.
Key features:
All Heat Wave feature the Scroll Compressor (20-40% more efficient)
2" Standard PVC connections
Strong 10 year warranty Oversized dual row evaporator coil
Internal bypass & chemical back flow protection
Dural thermostats standard
Time Clock Extent
AquaTop
Phenolic epoxy dipped Coil
Optional Upgrades:
Heat Wave Icebreaker: This option, which is activated with the flip of a switch, allows the heater to heat when temperatures drop below zero, the same option allows the Heat Wave to cool your pool in the summer. Extends swimming season.
Heat Wave ATV, Automatic Thermostat Valving. Automatic heats pool/Spa Combinations. No valves to turn or break, patented hydraulic system. Designed for use where pool and spa have separate pumps.
Heat wave DX,When Pool & spa water can opt be mixed. Heat wave DX can heat them Separately, using only one heater! The Heat wave Dual heat Exchanger allows you to heat two independent bodies of water, each having its own thermostat. Commercial pool and Spa's, Spa's that cannot spill over into the pool such as a Bromine Spa and Chlorine Pool.

Part Numbers and Purchasing
AquaCal Heat Wave Heat Pumps
Part
Number

Description

SKU #

Purchase

H110

AquaCal Heat Wave Heat Pump - 9,000 BTU'S

HE-03010

H120

Heat Wave 109,000 BTU

HE-03020

H135

AquaCal Heat Wave Heat Pump - 120,000 BTU'S

HE-03022

H155

AquaCal Heat Wave Heat Pump - 127,000 BTU'S

HE-03035
Links
Legend
Terms:
NLA = No Longer Available.
DS = Drop Shipped, Cannot be combined with any other Items.
OS=Cannot Ship UPS & Cannot be combined with other items