Alternate Pool Sanitizers, Carefree Copper Silver Ionizers
Carefree Model 1100 Ionizer
Carefree Clearwater Water Treatment Systems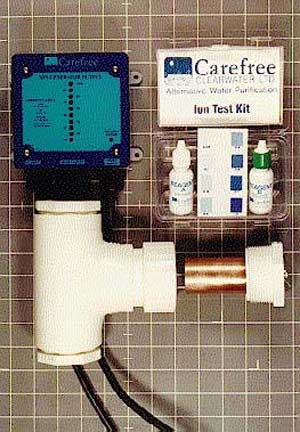 Model 1100
Automatic Purification System The features include: Simple to Use Controls

Plug In Operation

Lifetime Warranty

Variable Power Output for Spas and Pools

Solid State Electronic Circuitry Multiple Fuse Protection

Light Emitting Diodes Display Power Output Range, Anode Condition and Polarity Extended Cleaning Cycle for

Purification Cell Watertight Weatherproof UL Approved Enclosure.

N.A.S.A. has granted approval for commercial manufacturing of their patented ionizer to Carefree Clearwater, Ltd. Additional U.S. patents pending. United States Environmental Protection Agency Est. #59047-GA-001
Carefree Model 1200 Ionizer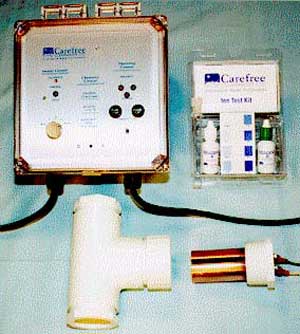 Model 1200
State-of-the-Art Commercial Rated Electrolytic Ionizer The well-proven features are: Rugged and Durable Design Protects Electronics from Moisture, Corrosion and Harsh Environments. NEMA 4X and UL 508-4X Rated Waterproof Equipment Enclosure. Gasket Sealed Clear Acrylic View Cover. Tamper Proof.
Heat and Vibration Protected Solid State Electronics.
Precise Metering and Stable Ion Output. Unit Automatically Maintains Preset Level.
Simple Operating Controls. Electronic Self-Checking Inspection Circuitry for Anode.
LED Displays for Power, Polarity, and Anode Status.
Self-Cleaning Anode Feature. Polarity Reversing Sequential Cleaning Circuit.
Circuit Design Maintains Accurate Metering Of Mineral Ion Flow Throughout Anode Life.
The Most Advanced Specialized Alloy Anode for Superior Water Quality and Purity. NSF Listed Ion Chamber Components.
Meets or Exceeds UL and NSF Standards.
Ion Test Kit and Complete Operator Manual Included.
Lifetime Equipment Warranty.
Part Numbers and Purchasing
Description

SKU #

Buy Me

MODEL 1100
Purifies up to 25,000 Gallon Spa/Swimming Pool.
Includes Plug In 1100 Controller, Anode, Ion Test Kit, 2" Ion Chamber, Installation & Instruction Manual. Please Specify if 220 VAC is needed.

CS-11000

MODEL 1200-R
Purifies 15,000 - 45,000 Gallon Swimming Pools.
Includes Model 1200-R Controller, Anode, Ion Test Kit, 2" Ion Chamber, Installation & Instruction Manual

CS-11005

MODEL 1200-C
Purifies 45,000 - 65,000 Gallon Swimming Pools.
Includes Model 1200-C Controller, Anode, Ion Test Kit, 3" Ion Chamber, Installation & Instruction Manual

CS-11010

MODEL 1200 C-1
Purifies 65,000 - 125,000 Gallon Swimming Pools.
Includes Model 1200 C-1 Controller, Anode, Ion Test Kit, 3" Ion Chamber, Installation & Instruction Manual

CS-11015

1100 ANODE
Lasts 2-4 seasons in a 20,000 Gallon Swimming Pool (Note: Replaced By 1200 Anode)

CS-11030

1200 Anode
Lasts 2-4 seasons in a 20,000 Gallon Swimming Pool

CS-11035

1200-C ANODE
Lasts 2-4 seasons in a 20,000 Gallon Swimming Pool

CS-11040

Specialty Anode: High Silver/Zinc, 1100

CS-11041

Specialty Anode: High Silver/Zinc, 1200C

CS-11042

Ion Chamber and Reducer, 2 Inches

CS-11045

ION TEST KIT

CS-11050

TEST KIT REAGENT REFILL
Replace Yearly

CS-11055
Links
Legend
Terms:
NLA = No Longer Available.
DS = Drop Shipped, Cannot be combined with any other Items.
OS=Cannot Ship UPS & Cannot be combined with other items