Max-E-Glas, Dura-Glas Sta-Rite Pool Pumps
Sta-Rite Dura-Glas Pool Pumps
We offer a complete line of swimming pool Pumps and parts, from all the major manufactures. Sta-Rite, American products, Pac Fab, Pentair and Hayward. Whether its a single part or a complete swimming pool pump, we can supply your needs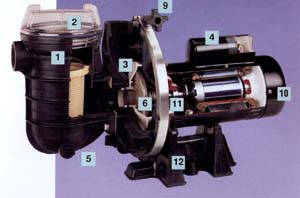 Proven Features of the Dura-Glas family of pumps.
Large capacity trap 5" lock-in basket for easy cleaning, 1-1/2" suction port
See-Through lid - Eliminates all the guesswork. You can see when the basket need cleaning, Improved design allows for easier opening. Lid molded of Lexan, durable and long lasting.

Self priming Diffuser design - Allows optimum pump efficiency and aids in rapid repriming. Bronze wear ring extends components life and maintains free rotation under loss of prime conditions.
Max-E-Glass Models - A running capacitor is added for electrical efficiency and reduced operating cost. Larger motor and stator windings convert electrical energy to maximum mechanical energy.
Finger-Opening Winterizing Drain Plugs. Quickly drains trap and pump body, without the need for tools.
High Head Impeller - Precision molded of glass-filled Lexan. Perfectly balanced design provides usually smooth water passages for outstanding performance and efficiency.
Continuous Duty rated motor - Fan Cooled, drip-proof construction, and sealed ball bearings contribute to years of trouble-free service under severe conditions indoors or out.
303 Stainless Steel Motor Shaft - For maximum corrosion resistance ... threaded for positive impeller drive and alignment
Top-Opening Stainless Steel pump clamp - 300 series stainless steel. Easily removed with handy grip knob for quick access to all internal components.
"Control Room" Design - Encloses motor controls away from dirt, bugs and moisture. Provides easy access for wiring connections and all serviceable components.
Sealed Permanently Lubricated Ball Bearings - At both ends of shaft ... Ensure extended life and smooth, cool, whisper quiet operations.
High Rise Mounting Base - Provide stable and stress free support for motor and pump. Elevates motor for added protection from accumulated water and dirt.

Part Numbers and Purchasing
| | | | |
| --- | --- | --- | --- |
| SKU # | Model | Swimming Pool Pump | Purchase |
| PU-0004 | P2RA5D | Sta-Rite Dura-Glas 3/4 HP pump | NLA |
| PU-0005 | P2RA5E | Sta-Rite Dura-Glas 1 HP pump | NLA |
| PU-0006 | P2RA5F | Sta-Rite Dura-Glas 1-1/2 HP pump | NLA |
Links To Other Popular Pumps
Legend
Terms:
NLA = No Longer Available.
DS = Drop Shipped, Cannot be combined with any other Items.
OS=Cannot Ship UPS & Cannot be combined with other items