Swimming Pool Water Games
Swimming Pool Toys, Dive Rings, Slalom Rings, Rotten Eggs
Pool Games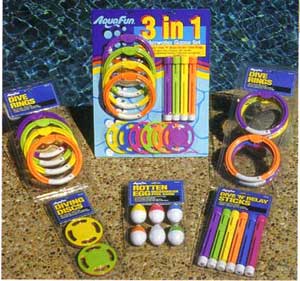 Part Numbers and Purchasing
SKU
Number

Part Number

Description

Buy Me

GA-00012

Dive "N" Relay Sticks (pkg of 6). Sticks are numbered for diving and racing

GA-00010

Dive Rings(Package of 6). Rings are for diving and retrieving

GA-00004

Rotten Eggs: 1/2 Dozen Eggs(weighted). Eggs are numbered and Sink for Retreiving

GA-00012

Diving Discs. Throw them in the pool, they will slowly drift to the bottom. Retrieve them before the hit the Bottom

GA-00018

Dolphin Slalom Game: Swim Through the under water course. Set includes three loops.
Links
Swimming Pool Games Listing (Complete)
Swimming Pool Lounges
Swimming Pool Games
Swimming Pool BasketBall Games
Swimming Pool VolleyBall Games
Legend
Terms:
NLA = No Longer Availble.
DS = Drop Shipped, Cannot be combined with any other Items.
OS=Cannot Ship UPS & Cannot be combined with other items