Hayward Viper Pool Cleaner, Pressure Driven Pool Cleaner
Hayward Viper Pool Cleaner
Hayward Viper Pool Cleaner Specifications
The Hayward Viper high performance pressure cleaner is setting a new standard for pressure cleaners. With the industry's widest vacuum nozzle, a large 6-quart debris bag and a highly effective sweep hose, it makes quick work of the most difficult debris cleaning most pools in less than 3 hours. Its programmable AquaDrive? water jet propulsion technology provides better coverage of pool surfaces, cleans quickly, and because it's not wheel driven, eliminates wear on pool surfaces. This kit comes with a 3/4 HP booster pump, pressue and sweep hoses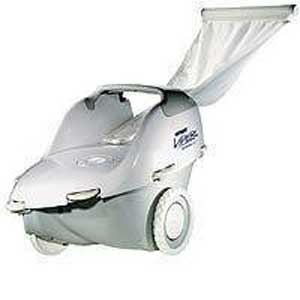 The Hayward Viper Automatic Pool Cleaner is designed to clean your pool faster than other automatic pool cleaners so you and your family spend your time enjoying your pool, not maintaining it. Works on all pool surfaces including gunite, vinyl, fiberglass, tile, etc.
Hayward Viper Cleaner has the widest cleaning path available - 41% wider than the closest competitor. Viper uses exclusive AquaDrive Programmable Technology to intelligently manuever around your pool, with little time spent in reverse. Water Jet Propulsion won't harm pool surfaces like power-driven wheels can.
The average pool can be sparkling in under 3 hours with minimum effort.
FEATURES:
Faster cleaning with a wider vacuum nozzle & powerful sweep hose
Complete pool coverage with randomized cleaning, backup and spinout
Programmable backup frequency of 30, 50, or 75 seconds
Larger suction inlet allows for large debris pick-up
Large intake capacity handles everything from dirt and leaves to acorns, twigs, pebbles and more
Large capacity bag means less frequent bag cleaning and is easy to remove, clean and replace
Patented AquaDrive® Water Jet Propulsion means no powered wheels wearing pool surfaces
Highly efficient sweep hose gets sand off of steps and out of tight corners
Easy installation
Booster Pump required-not included
SPECIFICATIONS:
Bag Capacity - 6 quarts
Cleaning Path Width - 7.75 inches
Narrowest Intake Diameter - 1.5 inches
Pressure Hose Length - 32 feet
Sand Retention - Largest
Backup Mechanism - Built-in backup & rotate
Backup Frequency - 30, 50, or 75 seconds
Backup Duration - 5 to 8 seconds
Cleaning-to-Backup Ratio - 90%/10%
1 Year Mfg. Limited Warranty
Part Numbers and Purchasing
Hayward Viper Pool Cleaner
| Part Number | Description | Sku # | Buy Me |
| --- | --- | --- | --- |
| 5500 | Hayward Viper Pressure Side Cleaner With Booster Pump | AC-00809 | |
Links
Hayward Pool Cleaner Parts
Hayward Viper Parts Diagrams
Hayward Viper Manual
Legend
Terms:
NLA = No Longer Availble.
DS = Drop Shipped, Cannot be combined with any other Items.
OS=Cannot Ship UPS & Cannot be combined with other items
]