Nature2 Natural Mineral Purifiers for Pools & Spas
Nature2 Natural Mineral
An industry leader for over 18 years, Nature2 is the most successful mineral-based system on the market - installed in over 300,000 pools and spas worldwide, and carried by more than 5,000 dealers. With patents worldwide, this low-chlorine alternative truly is the future of pool maintenance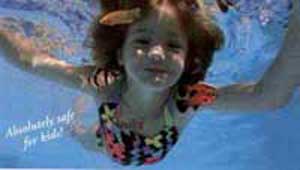 The Nature 2 system provides a healthy, safe and odor-free environment.
Significantly reduces the use of harsh chemicals such as chlorine & bromine.
Reduces suspended matter and provides a more consistent pH balance.
No stinging eyes, bleach hair or harsh chemicals.
Overall chemical maintenance is simpler, than traditional chemical treatments.
No electrical requirements

How Does it Work
Water flows through the Nature2 purifier, which contains a layer of minerals, which traps bacteria, algae and viruses. It contains no moving parts and is unaffected by heavy use or water temperature.
How Pure is your Nature2 Water
Pool water treated by Nature2 actually exceeds EPA drinking water standards for bacteria. Water is softer and purer than traditionally treated pool water.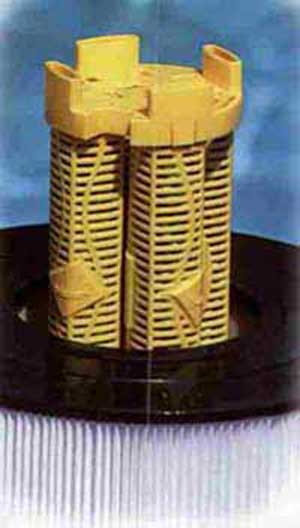 Nature2 CF™

Turn your cartridge filter into a pool purifier. Nature2 CF is designed for both in ground and above ground pools equipped with cartridge filters. Simply drop the Nature2 purifier into your existing cartridge filter. There are no changes to your system and no installation costs. It's that easy.
The Nature2 CF, drops into the cartridge filter of your in ground or above ground pool(up to 25,000 gallons)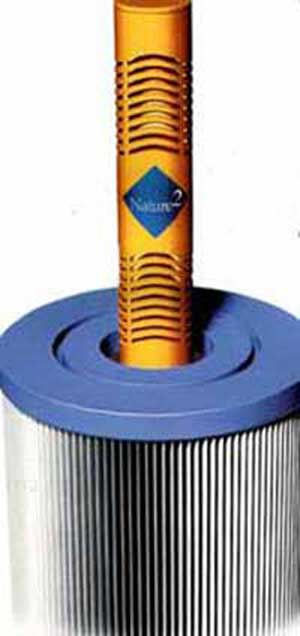 Nature2 Spa

Makes spas easy to manage
Purifier Life 4 months
Contains no Chlorine or Bromine
Drops into most spa filters in seconds
Improves performance of ozone-equipped spas
Assures a healthy safe, odor free spa
Capacity of up to 1000 gallons
Dimensions 6.25" x 1.25"
Recommended run time of filter 4 hours/day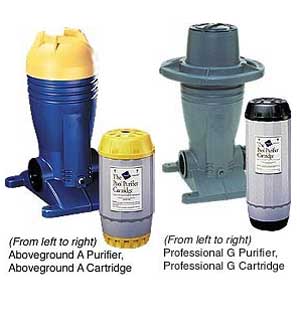 Nature2 A Purifier (On Right)
Specified for above ground pools, this purifier will cut chlorine and chemical use 50-80%, features no electricity and no moving parts. You will be surrounded by the cleanest, purest water under the sun.
Nature2 Professional "G"
These purifiers are typically specified for new in ground pool construction. Professional installation is recommended. They will cut chlorine and chemical use 50-80%, feature no electricity and no moving parts. You'll be surrounded with the cleanest, purest, water under the sun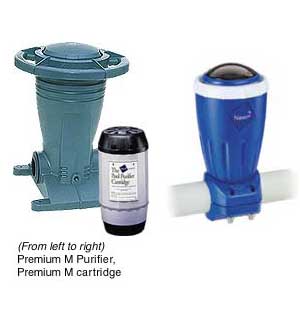 Nature2 Express™ (On Left)
It's never been easier to experience the benefits of Nature2. Designed for existing in ground pools, Nature2 Express installs in-line in minutes and will reduce your chlorine and chemical use 50-80%. For crystal clear purified water, it's simple.

Part Numbers and Purchasing
Nature2
| | | | |
| --- | --- | --- | --- |
| Sku # | Description | Model | Purchase |
| CH-03014 | Nature2, Professional G, 2.0inch Fittings, Complete Tank, No Cartridge | ProfG2.0 | |
| CH-03015 | Nature2 APC, For Automatic in ground pool Cleaners, to 25000 gals. | W29750 | |
| CH-03016 | Nature2, Premium M 1.5inch, In Ground Pools, Complete Unit, No Longer Manufacture, None Available | M | |
| CH-03010 | Nature2 W29500, For Cartridge filters Above, In ground. Model CF | W29500 | |
| CH-03012 | Nature2 AG, Above ground, Complete Unit, No Longer Manufactured, None Available | AG | |
| CH-03013 | Nature2, Professional G, 1.5 inch Fittings, Complete Tank, No Cartridge | ProfG1.5 | |
Links
chlorine Alternatives - General Information
Legend
Terms:
NLA = No Longer Available.
DS = Drop Shipped, Cannot be combined with any other Items.
OS=Cannot Ship UPS & Cannot be combined with other items