Polaris Pool Cleaner Bags
Polaris Pool Cleaner Bags, Models 65,165, 180, 280,360, 380
Polaris Pool Cleaners with Bags. Polaris bags come in a variety of meshes and an assortment of ways to connect to the pool cleaner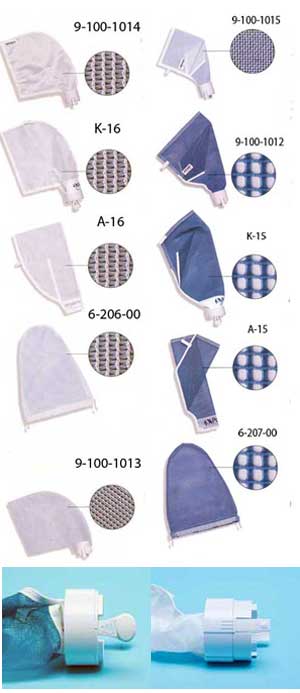 Polaris Pool Cleaner Bags:
Polaris Bags can be divided into two broad types: Fine Mesh and Coarse Mesh. The Course mesh bags are Blue-Green in color and the fine are white in color. The Coarse bags are called leaf bags.
Does the Bag attach with a clip or Velcro. The Velcro Style includes A-15, A16, 6-206-00 and 6-207-00
Finally the clip is two types, the Polaris 280 is a larger clip and the lock tab protrudes out the bottom (K14,K15, K16)
Which Polaris Do I Have?
Does it Attach with Velcro to the head of the cleaner. Possible bags include: A15,A16, 6-206-00,6-207-00

Does My Pool Cleaner Use a Booster Pump:
Yes - Polaris 180 Bags A15,A16
No - Polaris 65, 165 Bags 6-206-00,6-207-00
Does it Attach with a Clip at the Bottom of the bag. There are two style clips one has an inside diameter at the bottom of the clip of 2.5 Inches and the other has a diameter of 2.75 Inches (Pictured on Bottom Left Polaris 280 Style Clip)

Does My Polaris Bag Have a Diameter 2.5 Inches, Pictured above, Bottom Right
Does My Cleaner use a booster pump
Yes - Polaris 380, Bags 9-100-1014, 91-100-1015
No - Polaris 360, Bags 9-100-1014, 91-100-1015

Does My Polaris Bag Have a Diameter 2.75 Inches, Pictured above, Bottom Left
How many wheels does my cleaner have

4 wheels Polaris 280
3 wheels Polaris 480
You Should have identified the your pool cleaner, see below for specific bags,
Part Numbers and Purchasing
Polaris Bags
SKU #

Part
Number
Description

Purchase

Polaris 180 Bags

AC-04203

A15
Polaris 180 Coarse Bag, Attaches With Velcro Tab

AC-04204

A16
Polaris 180 Fine Bag, Attaches With Velcro Tab

Polaris 280 Bags

AC-04431

K12
Polaris K-13, 280 All Purpose Zippered Bag

AC-04432

K14
Polaris K-14, 280 Sand, Silt Bag

AC-04433

K15
Polaris K-15, 280 Leaf Bag

AC-04434

K16
Polaris K-16, 280 All Purpose Bag

AC-04435

K17
Polaris K-17, Black, 280 All Purpose Bag

Polaris 360, 380

AC-04760

9-100-1012
Polaris 9-100-1012, 360, 380, Leaf Bag
9-100-1013

AC-04762

9-100-1014
Polaris 9-100-1014, 360, 380 All Purpose Mesh Bag

AC-04763

9-100-1015
Polaris 9-100-1015, 360, 380 Fine Mesh Bag

AC-04764

9-100-1016
Polaris 9-100-1016 , Black, All Purpose Mesh Bag 360, 380

AC-04768

9-100-1021
Polaris 9-100-1021, All Purpose Bag with Zipper for 360 or 380

AC-04768BLK

9-100-1022
Polaris 9-100-1022, Black,All Purpose Bag with Zipper for 360 or 380

Polaris 480

AC-04496

48129
Polaris 48-129, Zippered Leaf Bag for Polaris 480

AC-04491

48135
Polaris 48-135, All Purpose Bag, Used on Polaris 480

AC-04487

48057
Polaris 48-057, All Purpose Double Zippered Bag With Tail Scrubber

Polaris 65, 165

AC-04624

6-206-00
Polaris 6-206-00, White, All Purpose Bag For Polaris 65, 165 Cleaner

AC-04625

6-207-00
Polaris 6-207-00, Blue-Green, Leaf Bag, for Polaris 165, 65
Links