Hayward Pool Vac Plus, Suction Pool Cleaner
Hayward Pool Vac Specifications. The Pool Vac Plus is based on the Pool Vac Technology. While the Pool Vac Plus is a discontinued model, newer models such as the navigator are being made and are very popular. Parts for the Pool Vac Plus are available as well as hoses and accessories.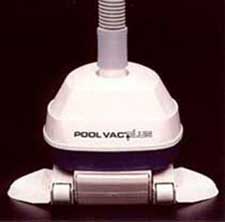 The cleaner that knows where it is going.
The Pool Vac Plus is truly a smarter cleaner. Employing Hayward's Aqua Pilot programmed steering, Pool Vac Plus systematically attacks every square inch of your swimming pool. Cleaning it faster and far more effectively than the random-pattern movement of
Pool Vac Plus features a newly designed expandable intake throat. Which means it can easily capture and vacuum larger debris, including acorns, snails and giant leaves. Making pool maintenance carefree and simple.

Simple Operation
Thanks to its intelligent design and durable construction, Pool Vac Plus provides you with easy, trouble-free operation. You never need to empty or replace debris bags. and because it runs off your existing filtration system, you don't need and energy consuming booster pump.
If you pool is a vinyl liner style pool without a main drain, Pool Vac Plus will improve circulation by pulling water from the bottom as it moves around and cleans your pool.
Optional Accessories:
Skimmer Vacuum Plate makes your Pool Vac or other suction type cleaner truly automatic by allowing the continuous alternation between vacuuming and skimming. The Vac plate has a pressure gauge for monitoring and adjusting the speed of the cleaner. Has a bypass valve to insure continuos water flow to the pump. Designed to be used in a skimmer, where the leaf debris is collected in the skimmer basket. p/n w490 or W491.
Leaf Canister has been designed to enhance the operation of the Pool Vac (and other pool Vac cleaners) in pools with greater concentration of leaves and other debris. It not only traps the leaves twigs, hair, rocks and other materials before it gets to the skimmer basket. It's clear plastic construction allows you to see if emptying is required before opening the canister. p/n W530 or w536.
Vac-Lok is the first safety wall fitting specifically designed to swimming pool vacuum lines when used in conjunction will Pool Vac or other vacuum-type cleaners. When the cleaner is disconnected the vacuum line automatically is closed by the spring load flap. Thus preventing an object from being sucked into the opening. Prevents hose from popping out of the wall connection. p/n w400.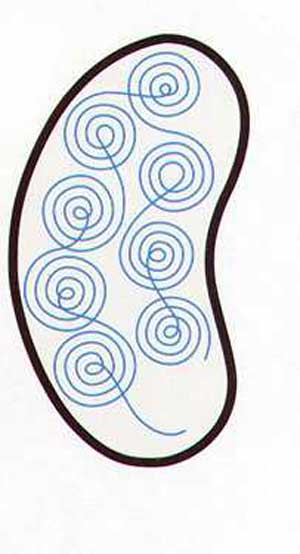 Programmed Pattern Cleaning

Part Numbers and Purchasing
| | | | |
| --- | --- | --- | --- |
| Order Number | Part Number | Description | Buy ME |
| | 1005C | Hayward Pool Vac Plus (concrete) with Hoses | NLA |
| | 1005V | Hayward Pool Vac Plus (Vinyl) with Hoses | NLA |
| AC-00981 | V130LG | Hayward Pool Vac Hose, Box of ten Hoses ( 9 regular, 1 Leader), All Models | |
| AC-00982R | | Hayward Vac Hose, Box of 4 Regular Hoses, Pool Vac, Navigator, Ultra, etc. | |
| AC-00811 | W400 | Hayward Pool Vac Lock, W400 | |
| AC-00812 | W490 | Hayward Skimmer Vacuum Plate, W490 | |
| AC-00813 | W491 | Hayward Skimmer Vacuum Plate. W491 | |
| AC-00818 | W530 | Hayward Leaf Cannister, W-530 | |
| AC-00814 | W560 | Hayward Pool Vac Clear Leaf Canister, W560 | |
Links
Pool Vac Plus and Other Pool Vac Accessories

Pool Cleaners - Complete Listing
Legend
Terms:
NLA = No Longer Available
DS = Drop Shipped, Cannot be combined with any other Items.
OS=Cannot Ship UPS & Cannot be combined with other items