Polaris 380 ™ Automatic Pool Cleaner
Polaris 380 Pressure Side Pool Cleaner
Polaris 380 Pool Cleaner Specifications. We offer a complete line of automatic swimming pool cleaners and parts, from all the major manufactures. Sta-Rite, Arneson, Jandy, Hayward, Baracuda, Letro, Kreepy Krauly and many more. Whether its a single part or a complete swimming pool cleaner, we can supply your needs. This page details the Polaris 380 Pressure side pool cleaner.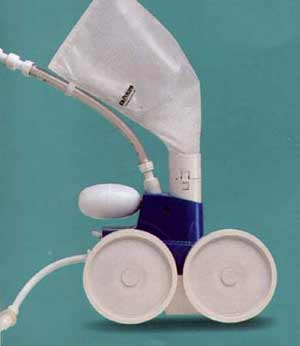 Designed for people who believe cleaning should be regularly, thoroughly, and never by a human being.
The Polaris 380 works off it's own booster pump, working independently from the rest of your pool system. This enables the 380's three jet engines to provide greater vacuum power and faster cleaning. The 380 vacuums, sweeps and scrubs the bottom and walls of any size or shape pool, be it Gunite, fiberglass or vinyl-lined. The large bottom picks up debris like leaves, acorns, pebbles and pine-needles.
It's easier on your filter. The Polaris 380 is one of the few cleaners powered by the pressure of clean water returning to your pool. It's unique filter bag removes debris before it reaches your pump basket or filter. This alone can reduce filter cleaning by up to 80% a year thus prolonging the life of your filtration system. With the 380, your filter is free to cleanse the water and your skimmer is free to clean the top six inches of your pool, where 75% of the bacteriological contaminants live.
Delivers fresh, clean filtered water to all parts of the pool.
Enhances the entire efficiency of your swimming pool.
Polaris will probably outlast your car. Polaris is famous for its high-quality products, which is a tribute to their engineers obsession with perfection. Many units are still in use after 14 years of service. Polaris original parts are readily Available
Debris as small as a grain of sand and as large as a leaf is vacuumed into the "wide vacuum tube"
Catches debris in it's own easily emptied filter bag before it can reach your pools filter. This reduces the cleaning load on your pool's filtration system
Turns on automatically when the pump is turned on.
Self adjusting for different flow rates. Continues to work as filter gets clogged and pressure decreases.
Polaris 380 Pool Cleaner Parts Diagram
Part Numbers and Purchasing
Polaris 380 Purchasing
| | | | |
| --- | --- | --- | --- |
| SKU # | Part Number | Description | Purchase |
| AC-04015 | F3 | Polaris 380 complete with hose (No Booster Pump) | |
| AC-04016 | | Polaris 380 Head & Hose & Booster Pump | |
| AC-04019 | PB4-60 | Polaris Booster Pump | |
Links
General information On Cleaners
Complete listing of Pool Cleaners
Polaris 380 Pool Parts Diagram

Information on Polaris 180
Information on Polaris 280
Information on Polaris 340
Information on Polaris 360
Information on Polaris 380
Legend
Terms:
NLA = No Longer Available
DS = Drop Shipped, Cannot be combined with any other Items.
OS=Cannot Ship UPS & Cannot be combined with other items